Community Activities
Community Activities include sports, charities, disability support, childrens programs and a wide range of other activities throughout the Darwin area.

Mental Health Award Winners and Supporters 2021
Nightcliff Community Bank
40 Progress Drive
Nightcliff
Ph 8948 4485
Opening Hours;
Monday to Thursday 9.30am to 4.00pm
Friday 9:30am to 5pm
Describe your Community Program here.
Community Activities and Programs play an important role in Darwin and the NT.
This web site provides an opportunity to tell everyone about your program and how it benefits people in the community.
The information you write here will help people who may be looking for just such a program.
Local businesses and volunteers are often happy to support organizations they can see working actively in the community.
Read about more Community Programs here.
Click below to see contributions from others.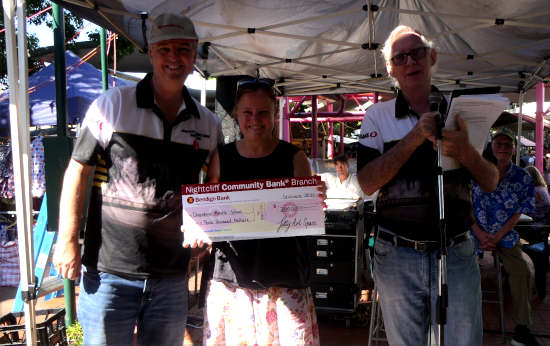 Presentation of $3000 2021 winners cheque to Dripstone Middle School
Overview
The Nightcliff Community Bank Branch sponsors organisations and activities that support our local community, building community strength and capacity.
A community forum was held to co-ordinate community activities and help the NCEL Directors use available funding in the most effective manner. Local people are invited to submit their ideas and comments in the online forum.
Since opening in September 2008, Nightcliff Community Bank has provided $450,000 to support various local organizations.
Read about Grants and Sponsorships here

To submit an Community Grants Application or to request further information you can contact:
Jeff Watson,
Branch Manager, Nightcliff Community Bank 
Phone 08 8948 4485
or email jeff.watson@bendigobank.com.au
---
Return from Nightcliff Community Activities to Home

---