Nightcliff Markets Stall.
A Nightcliff Markets Stall space is available at the front of the Nightcliff Community Bank to help local people promote their clubs and charities.
This space is only available to clubs and other not for profit organizations.
All enquiries for general stalls at the markets should be directed to the Nightcliff Markets Manager, Ross Dudgeon on 0414 368 773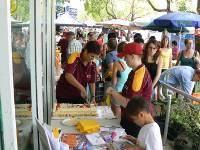 Nightcliff Market Stall
The Nightcliff Sunday Markets have been a popular destination for both local people and tourists for many years. A variety of arts and crafts, coffee, food and local produce attract visitors to enjoy the pleasant atmosphere provided by live music and the distinctively different stalls and displays.
The Bendigo Bank is a focal point for the markets, especially with the ATM facility, and provides good exposure for stalls located here.
The area along the front of the Bank is available for local groups who wish to promote their favourite clubs, sports or charities during the Sunday Markets.
This is part of the Community Bank policy of playing an active supportive role in the Darwin community. Of course it goes without saying that any stalls need to be family friendly and comply with local council regulations.
Please contact Nightcliff bank staff to discuss the possibility of using this space for your community organisation.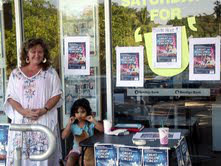 Larrakia Stall
Larrakia Nation using the bank space to sell tickets for the Moscow Circus opening night for which the proceeds (and discounted tickets) are going to Larrakia Nation and the Retta Dixon Home.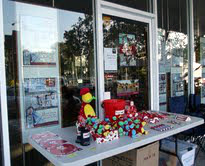 SidsnKids Stall
Sids 'n Kids using the market stall to raise awareness of support services to those affected by the death of a child that dies suddenly and unexpectedly and to raise some much needed funds.
All around Australia sports clubs, charities, schools and other community groups have benefited from millions of dollars returned to the people through successful community banks
---
Return from Nightcliff Markets Stall to Nightcliff Community Home

---