NCEL Annual Reports
Nightcliff Community Enterprises Limited (NCEL) Annual reports are the Financial reports of the company which operates the Nightcliff Community Bank® branch of the Bendigo Bank as a franchise of Bendigo Bank.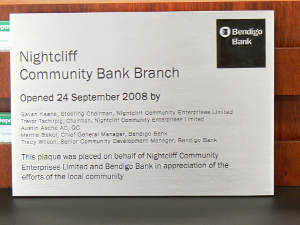 A Plaque commemorates the Branch opening
 Reports for the past five years are available here as PDF files, the 2018 Chair  report is printed below for convenience.
Chairman's Report
Even though the exact date in September falls outside the financial year, I'm sure 2018 will be remembered as the 10th birthday of the Nightcliff Community Bank. I'm equally sure it will be remembered for some other events as well, for the Royal Commission on banking, for the continued struggle of the Darwin economy with the wind down of construction at the Inpex facility and also for the headwinds facing the wider housing market in our larger capital cities.
In this context we have seen the bank continue to grow, albeit at a slightly slower pace than could have been expected in better local economic circumstances. This growth has enabled continued support of local community organisations and continued provision of one of the fundamental goals of establishing the bank, which was to ensure Darwin people had access to fair and honest banking facilities.

While I should emphasis that shareholders and the board do not have access to any account information in the branch, there is no doubt that operating a Bendigo Community Bank branch with a company owned by a spread of local shareholders and governed by a local board of directors has a profound influence on the operation and culture of the branch. The ongoing revelations of the Royal Commission have brought into sharp focus just how important this aspect of community banking is.

The direct financial rewards are important too and we were also able to pay another dividend of 3c per share to Nightcliff Community Enterprises Limited shareholders as well as providing community support programs totaling around $30,000.

On behalf of the Board and shareholders I do particularly thank our current branch team, Jeff, Lyn, Kay and Shannan for their contribution and dedication. There is no doubt about how important their connection to the community is to the success of the branch.

We would also like to thank the staff at Bendigo Bank for their ongoing support, and in particular to Paul Palcini who has worked closely with the branch in the business banking sector.

All around Australia Community Bank branches have a positive story to tell which provides us with confidence of success as Nightcliff Community Bank moves into a second decade of banking.

Jim McDougall
Chair
10 Community organisations received a donation to celebrate 10 years of community banking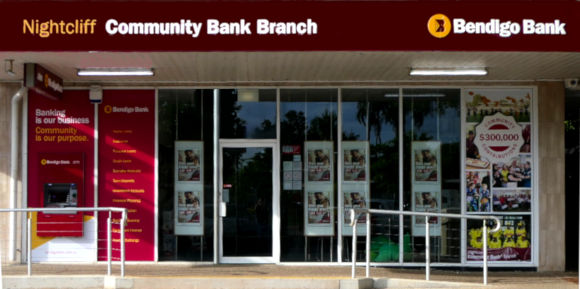 New window dressings to celebrate 10 years of operation.