NCEL Annual Reports
Nightcliff Community Enterprises Limited (NCEL) Annual reports are the Financial reports of the company which operates the Nightcliff Community Bank® branch of the Bendigo Bank as a franchise of Bendigo Bank.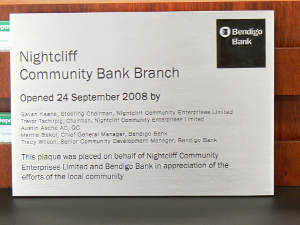 A Plaque commemorates the Branch opening
Full Reports for the past four years are available here as PDF files, the 2017 Chair and Managers reports are printed below for convenience.
Chairmans Report
Nightcliff Community Bank® Branch has continued the growth of previous years during the 2016/17 financial year,
even as Darwin has continued to struggle with changes to the local economy.
This has been achieved by a determined effort to continue engaging with the local community, building on the fact
that the Community Bank® branch is indeed an active part of that community just like other local business. By playing an active, contributing role in regular local activities such as the SeaBreeze Festival, The Malak Markets, fundraising events and school activities the board and staff ensure the original vision of a Community Bank® branch is maintained.
Pleasingly the branch has continued to provide financial support to community events and groups including;
• NT Rugby Union                                        • Darwin Trailer Boat Club
• Alzheimer's Australia NT                          • Tactile Arts
• Darwin Men's Shed                                    • NT Hockey Association
• Nightcliff Cricket Club                               • Master AFL Football
• Seabreeze Festival                                      • Lakeside Community Garden.
• Australian Volunteer Coastguard                • Hunger Walk
• Jingili BMX Club                                        • Malak Marketplace 
The day-to-day service provided by the branch staff is critical to this success too. Our customers also see that the
branch staff are very connected members of the community who do care and provide far more than just a 9.00am to
5.00pm banking service.
On behalf of the Board and shareholders I do particularly thank our current branch team, Jeff, Lyn, Kay and Shannan for their contribution and dedication. As in the broader community, technology is changing the banking industry and we are fortunate to have a team that has the skills, determination and flexibility to master and implement these changes to ensure the continued success of the branch.
This success has meant that as well as providing support to our local community, we were also able to pay another
dividend of 3c per share to Nightcliff Community Enterprises Limited shareholders.
Of course the Community Bank® branch is only possible because of the progressive policies of the Bendigo Bank
and we do especially thank the people we work with closely. In particular Regional Manager, John Grotenhuis during
his time in Darwin and Paul Palcini who has provided great support in the Business Banking sector. We welcome and
congratulate Rachel Fidler who has worked with our team during her time in the Smith Street branch and we look
forward to working with her in her new role as Regional Manager.
Nightcliff Community Bank® Branch looks forward to another successful year going forward in our partnership with
Bendigo Bank to provide support for our community.
Jim McDougall
Chair
Staff Celebrate 9th birthday of the branch.
Branch Managers report
It is my pleasure to once again reflect on the past 12 months of our business achievements.
Over the past year we have seen our business growth maintained in a very competitive home, commercial and deposit taking market. Net Business growth on our book was $8.38 million.
In reporting business growth we remind ourselves that our core focus has and always will be the local community with our branch once again supporting many activities with sponsorship support or direct staff involvement.
In the 2016/17 reporting period, the business provided sponsorship exceeding $33,957 in support to the community
from the Nightcliff Community Bank® Branch.
To mention some of the highlights for the year:-
• Involvement with the Darwin Trailer Boat Club Bluewater Classic, the only fishing competition in Australia that has a program in that all fish caught are donated to Foodbank NT to support those in need.
• Our continuing involvement and sponsorship of the Seabreeze Festival.
• Our support provided to the Project 21 group with the donation of a new vehicle to assist their Cans for Cash
program.
Our forecast for the next 12 months projects continued growth within our market that we believe has further
opportunities for our business.
As our community and people grow within the area we believe our business strengths and values will be at the forefront of their banking choices.
Finally, my staff and I would again personally like to thank you, our shareholders and customers, for your support of our business for the last 12 months.
Jeff Watson
Branch Manager
Nightcliff Community Bank Branch 40 Progress Drive