Nightcliff Community Bank.
Nightcliff Community Bank Branch was opened in September 2008 as a Bendigo Bank Franchise owned by local shareholders through Nightcliff Community Enterprises Limited.
Nearly 300 local shareholders provided the required capital, and with a Board of volunteer Directors, the Branch was opened for business in September 2008.

Contact: 
Nightcliff Community Bank branch
40 Progress Drive, Nightcliff
Ph (08) 8948 4485
Fax (08) 8948 4459
Email nightcliff@bendigobank.com.au
Open 9.30am to 5.00pm Monday-Friday
Support your Community Bank which works hard to produce a profit to be used for grants and sponsorships to local community organisations.

Enter the 2020 Seabreeze Jetty ArtSpace Competition
The annual Seabreeze Festival provides an opportunity for budding artists to display their work and compete for prizes donated by the Nightcliff Branch and other local businesses and organisations. 
Support for Schools & Community
Check here for  2020 Jetty Artspace competition winners.

In 2018 the branch celebrated 10 years of service to the community and shareholders.

10 Donations of $1000 to celebrate 10 years of Community Banking since 2008
Within a year of opening the Nightcliff  Community Bank Branch was able to begin support for local clubs and charity organisations.
By September 2019, around  $450,000  in cash and kind will have been provided for local support around Darwin and this is expected to increase as more local people see the advantage of banking with their Community Bank Branch.
All around Australia sports clubs, charities, schools and other community groups have benefited from millions of dollars returned to the people through successful community banks.
The stats below show how the 320+ Community Bank  branches have contributed to communities around Australia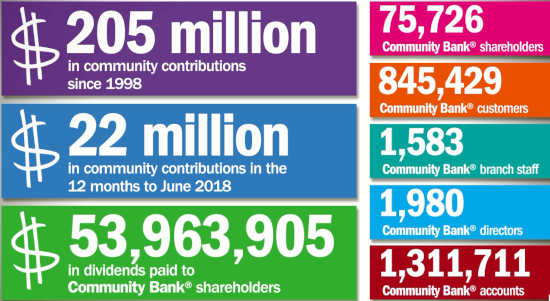 Community Bank Australian Statistics
Keep in touch with Darwin Communities through the
Nightcliff Community  Facebook page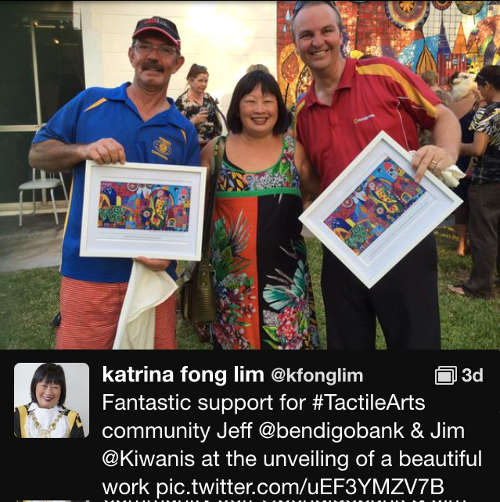 Opening the new Mural at Tactile Arts,next door to Darwin Museum
Nightcliff Community Bank branch supported the building of this mural which involved many community groups, each building a section of the ceramic tiles used in the mural.