Nightcliff Community Enterprises Limited Shares.
NCEL shares are available now to purchase and we are actively seeking inquiries from buyers on behalf of our Shareholders.

Nightcliff Community Enterprises Limited (NCEL) operates a Special Market called a Low Volume Market (LVM), to facilitate the trading of its shares.

Financial Reports for recent years are available here.
Read the conditions of the LVM market here.

The purchase of shares and the number allowed to be owned by a single Shareholder is subject to State and Federal Laws in addition to approval by the Board of Directors.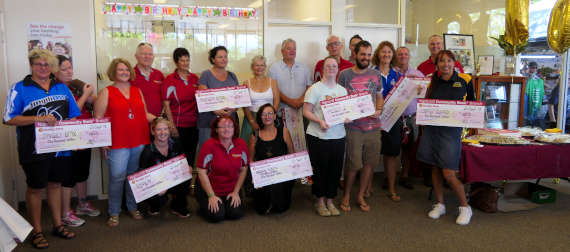 Community presentations at 10th Birthday
Nightcliff Community Bank Branch was opened by NCEL in September 2008 as a Bendigo Bank Franchise.

A  total of 294 local and interstate shareholders own 900,000 shares in NCEL, allowing the Nightcliff Community Bank Branch to operate and return funds into the Community.
More than $700,000.00 worth of support has been returned to various community organisations as well as providing a dividend to shareholders for the past six years.
Nightcliff Community Bank (NCEL)  Shareholders
AFS & Associates now manage our share registry including responding to, and actioning shareholder inquiries.
AFS have substantial share registry experience with over 20 years of experience with Bendigo Bank Community Banks. Their team will be able to answer any questions relating to your registration or  other shareholder transactions.
The online system is developed and maintained by Registry Direct  Limited in partnership with AFS. 

Please contact AFS Share Registry for:
Sale, purchase or transfer of shares
Update of contact details
Change of bank account
Deceased estates
Court ordered settlements
ASF share registry team members are available;
AEST 8.30am - 5.00pm Monday to Friday
Closed public holidays (Bendigo Victoria)
AFS & Associates Pty Ltd
Phone 03 5443 0344
Fax 03 5443 5304
shareregistry@afsbendigo.com.au
www.afsbendigo.com.au
Street Address:
61-65 Bull St.
Bendigo VIC 3550
Postal address:
PO Box 454
Bendigo VIC 3352
Please note: The Board of Nightcliff Community Enterprises Ltd and the staff of the Nightcliff Community Bank are not permitted to provide advice regarding shares, including price, at any stage of the negotiation or sale.  

Buying or Selling NCEL Shares
There are currently a number of Shares available and we are actively seeking buyers. If you are interested you can visit the website and complete this form via Nightcliff LVM "Register your interest online"
Download PDF Registration of Interest to buy or sell shares here.

If you are an existing Shareholder and wish to list your shares as available you can visit the website and complete this form via Nightcliff LVM "Register your interest online".  
Download PDF Information Sheet here.
Download PDF Registration of Interest to buy or sell shares here.
Special Market Condition Notices
The Community Bank company does not hold a license to operate
a financial market and is not subject to market obligations, in
particular, the obligation to ensure that the market is fair,
transparent and orderly. The market is covered by an exemption
under section 791C of the Corporations Act. The Community Bank
company does not provide a settlement service for trading in the
market – it is the responsibility of the parties to a transaction to
arrange payment between themselves.