Shared Value Project Award
The  Shared Value Project recognised the Bank as the Top Organisation to lead through Shared Value through the Community Bank  Model.
Bendigo Bank's progressive strategy recognised with top award for leadership in shared value for Australian communities.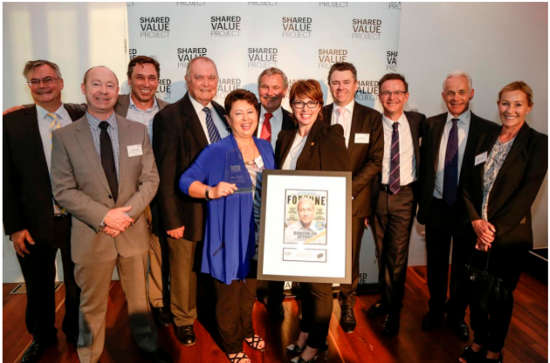 Shared Value Project Award accepted by Bendigo bank
Bendigo and Adelaide Bank, Australia's most trusted and fifth largest, full service retail bank, has been recognised for its unique approach to addressing societal issues as part of its core business strategy.
The Bank was recognised by the Shared Value Project as the top Organisation to Lead Through Shared Value, with its Community Bank model as the Bank's flagship example of Shared Value.

A concept documented by Harvard professors and world-leading business strategists, Michael E. Porter and Mark Kramer, Shared Value recognises the intrinsic link between business strategy and community prosperity.

Accepting the award in Sydney on Tuesday night, the Bank's Executive, Engagement Innovation, Robert Musgrove said the conversation about how a corporation can address social issues is changing. "We have often said that banking is not just about the individual but also the many, and you can't run a successful bank unless your customers succeed and they live in strong, prosperous communities. This philosophy is embedded deep in our DNA and we firmly believe it's in the Bank's interest to invest in creating both.

"The Community Bank model – our principle expression of Shared Value - shows what customers, communities and corporations can achieve when they come together in a truly reciprocal and mutually beneficial relationship.

"We are enormously proud to receive this award, and we celebrate this recognition with the 1,900 volunteer directors who operate their local Community Bank branches in the 320 cities, regional communities and country towns, providing investment into infrastructure and services for everyone to use, no matter who they bank with.

The Shared Value award is the latest award to recognise Bendigo and Adelaide Bank's good corporate citizenship.
Last month, the bank was named in the FORTUNE Annual 'Change the World List of companies that are Doing Well BY Doing Good' as the top Australian company on the globally acclaimed list. 

---