Thanks to all the people who supported the 2023 Jetty ArtSpace.
Winners were announced at the Nightcliff Markets at 10am on Sunday 21 May
All results are on the Jetty ArtSpace page
Darwin Community Forum

A Community Forum was organised by the Nightcliff Community Bank Branch to discuss funding community projects in the Darwin area to determine needs and priorities.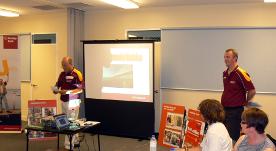 NCEL Chairman (left) and Nightcliff Branch Manager
The forum was opened by the Chairman of Nightcliff Community Bank Board, Murray Fuller, who welcomed participants and explained the purpose of the meeting.
To summarise his address;
Nightcliff had been left without a bank after the closure of the ANZ branch in Rapid Creek and the NAB branch in Progress Drive.
A committee formed by local residents led to the establishment of a Community Bank at 40 Progress Drive Nightcliff
Nightcliff Community Bank is a partnership between Bendigo Bank and Nightcliff Community Enterprises Ltd., a company owned by about 300 locally based shareholders.
The aim of the Bank is twofold; First to provide secure local banking facilities, and Secondly to provide a significant level of funding to local community projects and charities.
The purpose of the forum was to begin an ongoing discussion between Nightcliff Community Bank and the community on the best way to use this funding.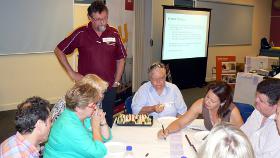 Discussing Community Ideas
The forum was invited to write out ideas and collate them into general groupings such as health, sport, art and aged care.
The proposals were then explained to the forum by volunteers and then displayed on a noticeboard for all to read.
Each participant was given four votes (yellow stickers) and invited to vote on the proposals by adding a yellow sticker to the ones they supported.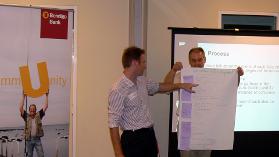 Presenting proposals to the forum
This community involvement will help the Board of Nightcliff Community Bank decide how to use funds as they become available.
It may also help provide a more co-ordinated community involvement by many of the clubs, groups and charities operating in the area.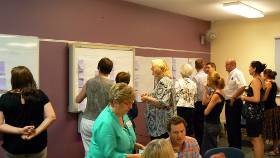 Voting on proposals
Of course not everyone was able to make it to the evening forum, and this will be an ongoing and evolving discussion.
If you would like to be part of this process, please consider using the form below to participate.
Nightcliff Community Forum
If you have a proposal for a community project in Darwin add it to this forum to help generate support and feedback. You might discover other people have similar ideas, or have projects with areas of overlap which you could benefit from.

All reasonable projects are welcome from local groups, clubs or charities. Please remember this is a public forum and no confidential information should be provided.

This is not a formal funding application, these must be made independently to Nightcliff Community Bank®, relevant organisations or government departments.
Read about other projects here.
Click below to see contributions from other visitors to this page...

Pedicab for homeless guys Not rated yet
Pedicab run through Bricks without Straw Homeless guys, long grassers, run as a tourist businesss. Waterfront to town or town to mindil or shopping from …
---
Return from Darwin Community Forum to Nightcliff Community®: Bank
---