2020 Artspace Community Support
Jetty ArtSpace 2020 Postponed Indefinitely
Due to the public restrictions forced by the spread of the Covid-19 virus it has become necessary to postpone all public gatherings, including the Jetty ArtSpace competition.
Because of the uncertainty it is impossible to say whether the competition can be held later in the year, or possible in a different format. 
The art grant for schools will remain open while the schools remain open.  Even though the competition may not take place we believe providing some materials for art will help schools engage pupils through this difficult time.
The Nightcliff Community Bank Branch will remain open as an essential service unless forced to close by infection of staff.
To help keep the Branch open, please use online banking wherever possible. For help with online banking call 1300 236 344
Nightcliff Community Bank Branch is pleased to be able to offer $150 to schools, charitable organisations, education providers and community groups to assist with the cost of art supplies when creating your Jetty ArtSpace work.
Complete the form below to apply for the $150 support payment.  You must also complete the 2020 Jetty Artspace registration form.
In accepting the support payment you are agreeing that:
Artwork will be a combined group effort and not individual pieces
You have the permission/authority to represent your group
Your group will submit an entry into the 2019 Jetty ArtSpace
Click here for the registration form and entry terms and conditions.
Register before April 24th and receive $150 to assist with costs of art supplies. 

Conditions apply: This payment is only for schools, charitable or not for profit organisations, education providers and community groups.  Entry must be a single piece and not individual pieces of work.
All enquiries to  ArtSpace coordinator Pooja on 8948 4485
 or Pooja.Shrestha@bendigoadelaide.com.au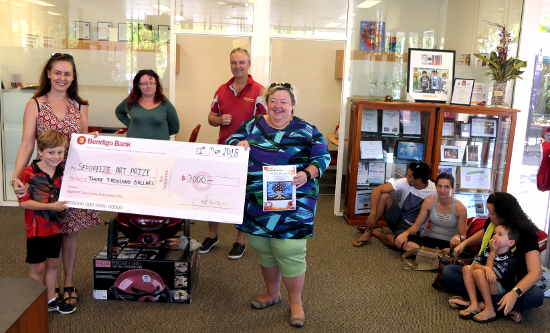 Presentation of 2018 winners cheque to Alawa Primary School