2020 Jetty ArtSpace Competition
Nightcliff Seabreeze Festival - Saturday May 9 2020

In 2020 because of  Covid Restrictions the Seabreeze Festival and Jetty Artspace were held online instead of at the usual Nightcliff foreshore.
Jetty ArtSpace 2021 
A Big Thank you to everyone for supporting
The Seabreeze Jetty ArtSpace  in 2021. 
This year the Nightcliff Community Bank Jetty Artspace
was back at the usual place beside the Nightcliff Jetty.
The art theme was 'Health and Wellbeing' with St John Ambulance
coming along to provide practical Safety advice.
Once again there were two major prizes of $3000 each, one for individuals and one for schools/groups and prizes for Under 18 and Under 13, all sponsored by the Nightcliff Community Bank.
Other minor prizes were sponsored by generous local businesses.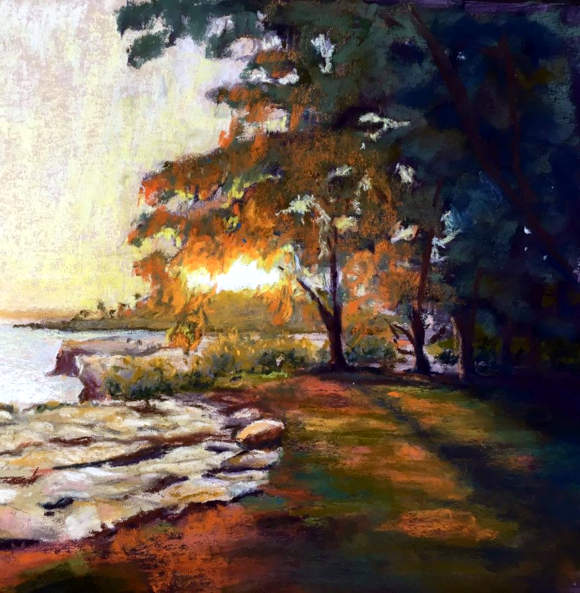 Nightcliff Sunrise, Pastel. by Susan Penfold
Adult winner taking home $500 prize, proudly donated by Nightcliff Community Bank is Susan Penfold - Nightcliff Sunrise, Pastel. An early morning walk along Nightcliff beach is always something special.

Seabreeze esteemed judges, both Bev Garside and David Collins thought that the colour, texture and light was beautifully done. CONGRATULATIONS!!!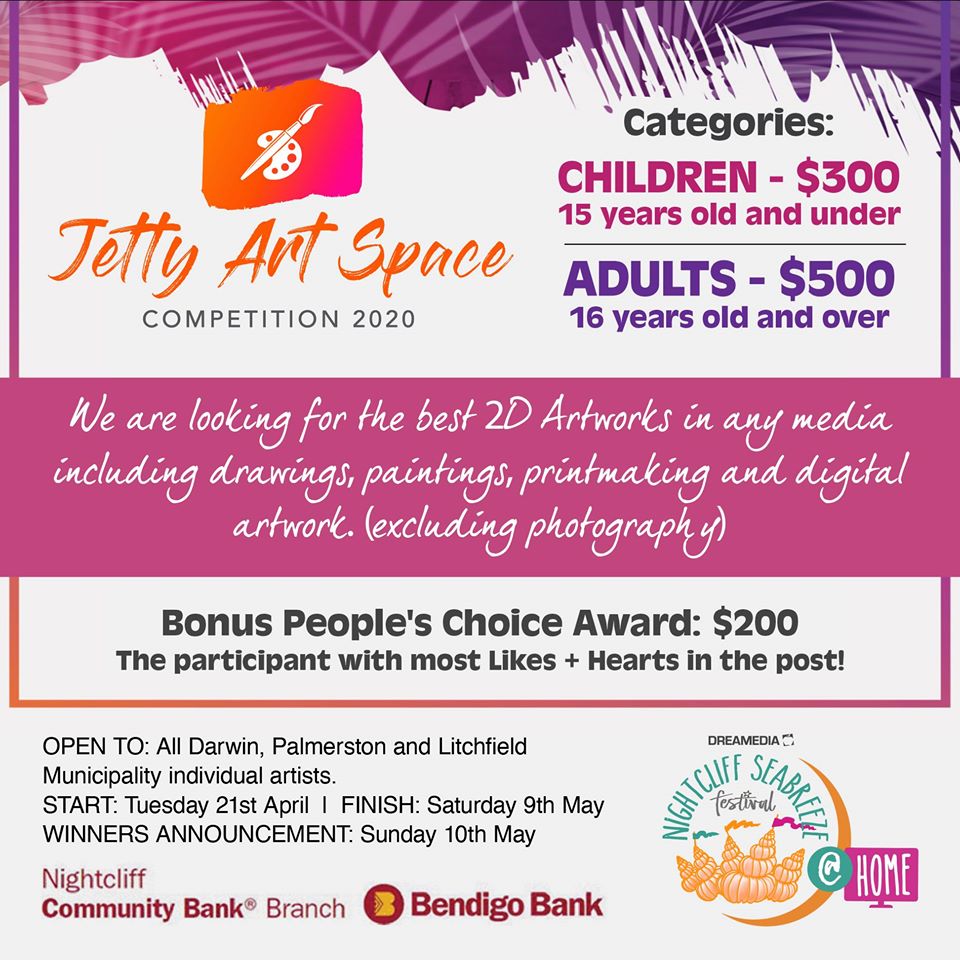 Individual Community Choice Gold winner 2019
---
We hope the 2021 Jetty ArtSpace Competition will return to the traditional location and form we are used to for the 2021 Seabreeze Festival.
Read through the following for an indication of how the 2021 Artspace Competition might run.
Please prepare your work for us to hang
The ArtSpace experiences moderate to severe winds and while the sea breeze is refreshing to feel it can lift even heavy pieces of art and throw them.  Art is displayed on fencing panels or on the ground and we've learned that using cable ties to secure it is our safest and most reliable option in the wind.
We will have hooks and cable ties for registered entries but artists must prepare their own work to hang.
Cardboard and paper are impossible to hang and damage is guaranteed.  

All artwork is displayed at the owners risk.
Images of Artworks and Artists may be used in promotional material by Nightcliff Community Bank Branch
Where can I find the Jetty ArtSpace?
Leave the car at home and catch a DarwinBus for free! All public buses from all locations will be free to all patrons travelling to and from 'A Day on the Foreshore' . Pick up a flyer from your local cafe / library, Download it & Print it (PDF) at home OR SIMPLY SHOW IT ON YOUR PHONE OR DEVICE  to the bus driver.

Additional sponsors are still being finalised and there is the opportunity to join us in 2021.  Sponsoring a secondary category in the Jetty ArtSpace will get your business name here, social media mentions, acknowledgement on the day and at the presentations.  Prizes are negotiable and we welcome your enquiry.  
The following is an indication only and may change for 2021.

We can only hope that life has returned to normal by then
All registered entries are automatically eligible to win the Community Choice  prizes voted on by your community.
Community Choice Individual Artist Gold $3,000
Community Choice Individual Artist Silver $250
- registered entries by an individual artist of any age.

Community Choice School/Group $3,000
Community Choice School/Group Silver $250
- registered entries that are a combined effort by a school, charitable or not-for-profit organisation, education provider or other community group.
Community Choice Juniors;
(U18) Individual Gold $1.000
 (U18) Individual  Silver $100

Primary School age Gold $250
Primary School age Silver $50
Remember that all artwork must be registered to be eligible and everyone can vote - children, artists and tourists included
Gold prizes sponsored by;
 Nightcliff Community Bank Branch
Silver prizes sponsored by;
Katherine Regional Community Bank Branch
Coolalinga & Districts Community Bank Branch

There will be four categories in the 2021 Jetty Art Competition;
Schools/ Groups, Individual Artist,  Junior Artists (U18) and Primary Schoolers
 All artwork is up for the Community Choice prize in their category.
Who can say whether a painting, a sculpture or a photo is better art? 
 The community will be the judge!
All forms of art are eligible provided it can be successfully displayed at the jetty.
Some examples:
Recycled - When you recycle something, you process it so it can be used again. Needs to be a very high percentage of reused items except for any glue or paint.
3D -  3D art is perceived to have height, width and depth, and having these three makes it a form; meaning all 3D arts have form. It is not flat like paintings, drawings and photographs.
Collage - Not just magazine pictures on paper in the world of fine art collage is a specific art term, meaning a piece formed primarily by images that are adhered to an item to form a new image. (mosaic included)
Mixed media - Mixed media simply means more than one medium being used in a piece, so it can be painting and magazine images, assembled junk, ink and watercolor, etc etc
Painting - A painting is an image (artwork) created using pigments (color) on a surface (ground) such as paper or canvas. The pigment may be in a wet form, such as paint, or a dry form,
How and when do I get my art to the jetty?
 Please consider the size of your art and items which are large, heavy or bulky will need the artist to arrange delivery and collection directly to the event.
Art which needs to be displayed in a particular way will need to be delivered and arranged by the artist.
Delivery before the big day:

Nightcliff Community Bank , 40 Progress Drive Nightcliff 
Open 9.30am - 5pm Monday to Friday
Please avoid the last 30-60 minutes before closing if possible.
No other Bendigo Banks can accept artwork 

On the big day:
Nightcliff Jetty between 7am and 11am.  Voting closes at 7pm sharp, and work can be collected until 8pm.
Reminder: Artwork must be registered before the event or it won't be eligible for prize money and may be excluded from display if there is no space.
Please click here to fill out an entry form.
Participation Bonus for Schools and Groups
Since 2016 Nightcliff Community Enterprises has provided support for schools to assist in purchasing materials to create art work.
Register before April 24th and receive $150 to assist with costs of art supplies.

Conditions apply: This payment is only for schools, charitable or not for profit organisations, education providers and community groups.  Entry must be a single piece and not individual pieces of work.
All enquiries to  ArtSpace coordinator Pooja Shrestha on 8948 4485
or email Pooja.Shrestha@bendigoadelaide.com.au 
Please note that I am not a bank employee and work elsewhere full time.  Text or email is my preferred contact as I may not be able to answer calls.
---
Return Home from 2020 Seabreeze Artspace Information 

---