Jetty ArtSpace Registration
2021 Artspace Registration
All entries in the 2021 Artspace Competition must be registered online here.
Read the Terms and Conditions of the competition here
Jetty ArtSpace 2021 
A Big Thank you to everyone for supporting
The Seabreeze Jetty ArtSpace  in 2021. 
This year the Nightcliff Community Bank Jetty Artspace
was back at the usual place beside the Nightcliff Jetty.
The art theme was 'Health and Wellbeing' with St John Ambulance
coming along to provide practical Safety advice.
Once again there were two major prizes of $3000 each, one for individuals and one for schools/groups and prizes for Under 18 and Under 13, all sponsored by the Nightcliff Community Bank.
Other minor prizes were sponsored by generous local businesses.

Nightcliff Bridge by Catherine Miles 2019 Individual Community Prize
Please refer to the Jetty Artspace Information page for more details on how to prepare and submit your entry.
Important information for entry
Entry is Free
Artwork must be registered online here before the day
Only one (1) piece of art per artist/group
Unregistered work will be refused and won't be eligible for prizes 
All entries must have your contact details on the back
Each entry will be allocated a number for voting purposes 
Voting starts at 12 noon and closes at 7pm
We will announce the winners and present prizes at the Nightcliff Sunday Markets 

 

 at 10 am Sunday 16th May
How and when do I get my art to the Nightcliff  Jetty ArtSpace?
Deliver  to the Nightcliff Community Bank  on or before Friday 7th May 2021
Nightcliff Community Bank , 40 Progress Drive Nightcliff 
Open 9.30am - 4pm Monday to Thursday
Open 9.30am - 5pm Friday.
No other Bendigo Banks can accept artwork

Please avoid the last 30-60 minutes before closing if possible.

NO ENTRIES WILL BE ACCEPTED ON THE SATURDAY AT THE JETTY
unless prior arrangements are made.
Please consider the size of your art and items which are large, heavy or bulky will need the artist to arrange delivery and collection directly to the event.
Art which needs to be displayed in a particular way will need to be delivered and arranged by the artist.
 Voting at the Jetty begins at noon on Saturday and closes at 7pm sharp.
Work can be collected until 8pm.
Reminder: Artwork must be registered and delivered to the Nightcliff Community Bank at 40 Progress Drive before Friday 7th May or it won't be eligible for prize money and will be excluded from display. The only exceptions will be for arrangements made through the registration process.
The following is an indication only and may change as more sponsors join the 2021 competition

All registered entries are automatically eligible to win the Community Choice  prizes voted on by your community.
Community Choice Individual Artist Gold $3,000

- registered entries by an individual artist of any age.

Community Choice School/Group $3,000

- registered entries that are a combined effort by a school, charitable or not-for-profit organisation, education provider or other community group.
Community Choice Juniors;
(U18) Individual Gold $500.00


Primary School (U13) Gold $250

Remember that all artwork must be registered to be eligible and everyone can vote - children, artists and tourists included

Gold prizes sponsored by;
 Nightcliff Community Bank 
Local Sponsors supporting the Seabreeze Jetty Artspace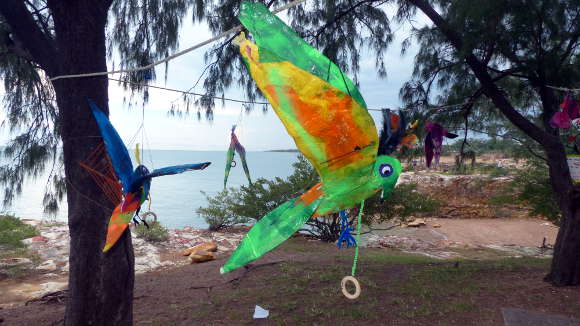 Seabreeze Festival art at the Jetty