Nightcliff Bank Staff Safari
Nightcliff Bank Staff report on a fishing expedition to see who can catch the biggest Barra in the NT.
Sometimes the best way to improve your working ability is to forget about it altogether, head for the great outdoors and have some fun. Recently Nightcliff Bank Manager Jeff Watson did just that, taking his staff, his daughter and Bendigo Bank NT Manager Steven on a fishing expedition to tackle some Territory Barra.
Jeff sent us this report;
Yesterday my Nightcliff team, which included Steven, headed out to Berry Springs Barra Farm, rightfully called "Flicking Fresh" (see their website www.flickingfresh.com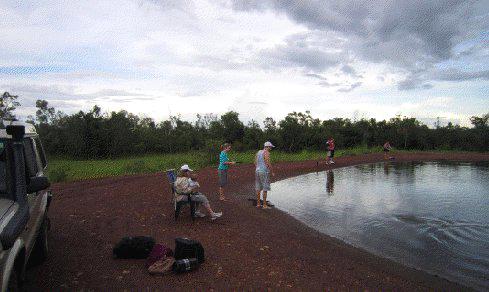 Nightcliff Bank Staff Intensive Training Session
Our aim today was to have a bit of fun as a team, but to also give a few of my staff an opportunity to catch a Barra. I've been trying to work out how to get all my staff in the one location to do this, so being able to stay land based & fish together was an excellent way to experience this.
Our travels takes us just past the Territory Wildlife Park at Berry Springs with excellent directions from their website & well sign posted road, approx. 2 kms of dirt road see's you at the farm once your turn off Cox Peninsula Rd. You are greeted by the staff & owner who quickly assemble you for an orientation of the farm & todays fishing, this includes a safety lecture & a viewing of a tank that holds a couple of recently caught Barra to get the heart rate up.
Well the lecture is over & time to fish, a quick dash to one of the Dams from the farm shed has you keen as ever, because every pond you walk past has the boil of fish rising to the surface, these are not little boils & has you thinking what has the day installed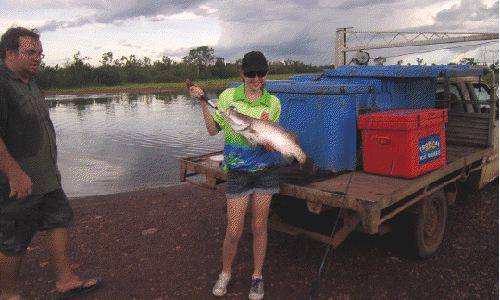 Definately Bank CEO Potential here.
As some of you know Janet is still a bit tender on her feet from her accident, so the owner arranges a ute ride for her & its these little focuses of caring that made our experience just a little better too.
Anyway, we arrived at our Dam location & we are placed into stations so that we each person has plenty of room for casting, this included myself having ample room to cast a fly.
Now being keen but also following protocol I decided as all good employee's should do, let your Bendigo Boss have the first cast, perhaps my staff can take note next time (hint hint), in goes a soft plastic to the murky waters of the pond, the turn of the egg beater & he's on, well done Jeff that will get you points Monday.
Well enough of the politics of work, my daughter is next, Briana again is on an overhead combo with a soft plastic attached, now Briana is keen to take the challenge & we move away from the pack to get some clear casting distance, plus allow for the occasional mis-cued lure flying in the wrong direction, not to be & a perfect cast to the middle of the Dam. The soft plastic is sank to the bottom & then cranked in, smash & she is on first cast, but she is in for a fight as I reckon this fish may weigh more than her, after a few minutes we are in control she seemed but these Barra do play dirty, it was common with fish caught to have 40lb leaders frayed if they decided to play the angle game on you.
Now the pressure is on, the next thing I see is both Emma & Cassie fighting fish which has me thinking Im going to miss the boat if I don't hurry up. Both the girls are yahooing & carry on like they had just seen Collingwood win the flag (sorry that didn't happen), perhaps the Cats for you Cassie. (see photos attached)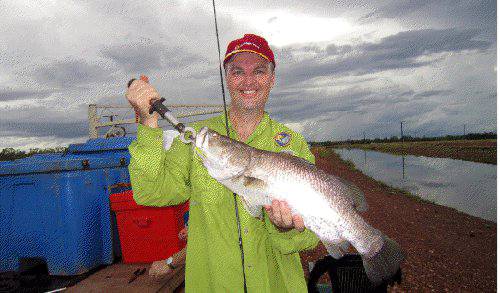 Ticket to work on Monday.
Ok, its time.

Everyone around me is happy & I pull the fly gear out at last.

My first few casts were Ok but no fish, it looked easy with all these guys on soft plastic's, what's going on, no fish, how can I go to work without a fish to my name!.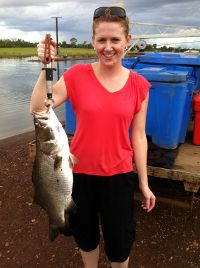 Cassie with her Barra
Oh yes, what does a plastic do quicker than a fly, sink!. Next cast was right out there & Im ready, let it sink Jeff, right start the retrieve, c'mon I know this is it, bang I'm on & it's got me working straight off, cuts a nice angle to 90 away from me & Im hoping I've got one of those 80cm versions our hosts told us about.
My fish decided to take his first run & buck the reel out of my hands I thought this could be interesting for a while. Anyway, to cut it short, my first Barra puffed itself out after a few minutes & was landed safely onto the landing towel provided, then quickly de-hooked & placed in the tanks for the farm owner to deal with later.
Now we didn't measure any fish we caught, but I did measure the grips holding the fish when I arrived back home to guess fish size against the photos, my guess we are somewhere as an average catching most fish in the low 70's, with one of my crew landing an official 82cm version, which are kept for breeding stock, others find their way to restaurants or taken home by guests for Dinner.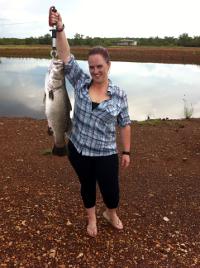 Emma and Barra
Now would I recommend the Barra Farm experience to everyone, yes?
I'm told by the owner that these Barra might not fight as hard as their saltie brothers & sisters, but I know most of my crew had them jumping & turning. Will we go back, yes as the owner of farm is planning even bigger things out there including in the near future the opportunity of catching metery Barra, bring it on.
The Nightcliff crew had an excellent day with the occasional sledge thrown in, strange how the competitive nature comes out in people .
I hope you enjoy my report.

Jeff
---
Return Home from Nightcliff Community Bank® Staff Safari

---