Nightcliff Community Bank® Support

Skarlett
Nightcliff Community Bank® support helped Skarlett with essential recording equipment which enabled these budding Nightcliff musicians to fulfill their dream and record their music.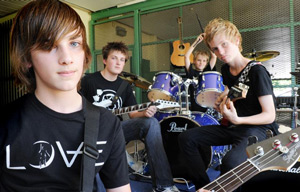 Skarlett
In a recent letter to Nightcliff Branch Manager Jeff Watson, the band describes how they were able to overcome the difficulties of substandard equipment with the cash provided by the Community Bank®: grant.
Dear Jeff and the Bendigo Bank Committee,
We're writing to stay in touch and let you know what's been happening since we received our Bendigo bank grant.
Late last year we started recording our album and laid down thirteen tracks by the end of March 2011. We weren't happy with the vocal sound quality in the first few songs so we spent $520 of the grant money to buy a recording quality microphone.
This year, Arran and Lachlan went overseas from April to June which stopped recording but gave time to start mixing the songs. Sam's been mixing the songs on Pro Tools a computer package that comes with a standard set of mixing tools and effects. The drum sound wasn't turning out as full as other recordings we've heard. To get the sound we were looking for we spent another $640 of our grant money to purchase Pro Tools 'Plug-Ins'.
While the band were separated everyone listened to the songs and picked up small recording errors in the tracks. Now that we're back together we'll re-record those tracks to get rid of the glitches. The album will now be finished by the end of this year.
There are more gigs planned at the Katherine Festival, Happy Yess / Brown's Mart before Christmas and we are always looking out for more gig opportunities. If there are any community based events you hear about looking for some live music, please let us know.
Yours sincerely

Skarlett
Jack, Sam, Arran and Lachlan
www.skarlett.com.au
More than $100 million dollars has been provided to local community projects since 1998 when the first Community Bank®: opened. The Nightcliff Community Bank® has been able to provide over $50,500 in support programs to date and has more in the pipeline.
---
Return Home from Community Bank® Support

---