Community Partnership Grants

Nightcliff Community Bank® Branch Partnership Grants Application Form allows local organisations to apply for funding to aid in the development of community projects or to support local charities.
This form should be used where the amount required is more than $500. Applications for smaller amounts should be submitted using the Sponsorship Application form.
A Partnership Grant differs from a sponsorship in that it is expected to provide advertising benefits which will allow the bank to grow and provide even more support for the community over time. Successful applications will provide benefits to both the applicant and the Nightcliff Community Bank® Branch

This are considered a long term partnership between the bank and local organisations and applications will be evaluated at the quarterly meeting of the support grants committee.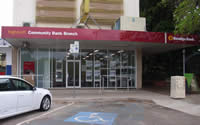 Nightcliff Community Bank® Branch
Nightcliff Bank Branch
Ph 8948 4485
Opening Hours
Monday to Friday 9.30am to 5.00pm
Saturday 9.00am to 12 midday
Manager Jeff Watson and the staff are all proud to be part of a business that contributes so much to the local community and are determined to provide friendly, professional service.
Helping community organisations manage their banking needs for maximum benefit and efficiency is an important aspect of their contribution.
**The form will not work unless you click the "Agree and Continue" button at the top of the page.**