2019 Jetty Artspace 
Competition Terms and Conditions.
This year the Nightcliff Community Bank® Branch is sponsoring two major Community Choice prizes of $3000 each. Please consider the following rules carefully to ensure a correct application to enter the competition.
General Terms and Conditions 
The Award is open to artists  who are residents of the Northern Territory
Only one entry per artist will be accepted, however an artist contributing to a group/school entry may also enter an individual work.
All artwork remains the property of the producing Artist or Organisation.
The artist warrants that the work is original and that it does not infringe any copyright, moral rights, intellectual property rights or other rights of any third party.
The artist remains the copyright owner of the work and will be acknowledged as the creator of the work at all times.
The artist grants to the Nightcliff Community Bank® Branch a non-exclusive, perpetual, worldwide licence to freely use, reproduce, publish and communicate the entered work for publicity, promotional and educational purposes associated with the Award in print and digital media. The winning works may also be reproduced to promote future Jetty Artspace Awards.
 The competition takes place in a public, outdoor area subject to the weather on the day. Artwork is entered at the owners risk and no insurance of the work is provided by the organisers.
The Community Choice awards will be decided by votes registered on official voting slips provided by the organisers. Votes must be lodged by visitors to the Jetty Artspace between the official hours of 12noon to 7pm on Saturday 11th March.
No proxy or electronic votes will be accepted.
No correspondence will be entered into concerning the award decisions.
What are the categories? Community Choice - not once but twice
All registered entries are automatically eligible to win in the Community Choice  prizes sponsored by the Nightcliff Community Bank® Branch and voted on by your community.
Community Choice Individual Artist $3,000 - registered entries by an individual artist of any age.
Community Choice School/Group $3,000 - registered entries that are a combined effort by a school, charitable or not for profit organisation, education provider or other community group.
Remember that all artwork must be registered to be eligible and everyone can vote - children, artists and tourists included
Important information for entry
Entry is Free
Artwork must be registered online here before the day
Only one (1) piece of art per artist/group
Unregistered work may be refused and won't be eligible for prizes 
All entries must have your contact details on the back
Each entry will be allocated a number for voting purposes 
Voting starts at 12 noon and closes at 7pm
We will announce the winners and present prizes at the 

Nightcliff Community Bank®

 Branch

 at 10 am Sat 18 May
Please prepare your work for us to hang
The ArtSpace experiences moderate to severe winds and while the sea breeze is refreshing to feel it can lift even heavy pieces of art and throw them.  Art is displayed on fencing panels and we've learned that using cable ties to secure it is our safest and most reliable option in the wind.
We will have hooks and cable ties for registered entries but artists must prepare their own work to hang.
Cardboard and paper are impossible to hang and damage is guaranteed.  

All artwork is displayed at the owners risk.
Images of Artworks and Artists may be used in promotional material by Nightcliff Community Bank® Branch
Sponsors
Additional sponsors are still being finalised and there is the opportunity to join us in 2019.  Sponsoring a secondary category in the Jetty ArtSpace will get your business name here, social media mentions, acknowledgement on the day and at the presentations.  Prizes are negotiable and we welcome your enquiry.  
Other categories
This is a guide only. Categories will be chosen based on registered entries.  All artwork is up for the Community Choice prize plus a second category.
2D Art - painting, drawing, charcoal

Wearable Art - wearable items such as clothing or jewellery  
Recycled Art - must contain 100% recycled products (excluding any paint, glue or other adhesives) and can be in any format.  
Sculpture/3D/Dimensional Formats - Basically – anything that isn't flat! 
Children and Youth - All under 18 entries.  Age groups will be based on registrations received.
Judges for any second category will be appointed by the organisers and will be independent of the Community Choice awards.
How and when do I get my art to the jetty?
The record number of artwork packed into my car (a sedan) was 96 which is how it's all transported to the Jetty.  Please consider the size of your art and items which are large, heavy or bulky will need the artist to arrange delivery and collection directly to the event.

Before the big day:

Nightcliff Community Bank® Branch, 40 Progress Drive Nightcliff 
Open 9.30am - 5pm Monday to Friday and 9am to 12 noon on Saturdays. Please avoid the last 30-60 minutes before closing if possible.
No other Bendigo Banks can accept artwork 

On the big day:
Nightcliff Jetty between 7am and 11am.  Voting closes at 7pm sharp, and work can be collected until 8pm.
Reminder: Artwork must be registered before the event or it won't be eligible for prize money and may be excluded from display if there is no space.
Please click here to fill out an entry form.
Participation bonus for schools and groups

In 2016 Nightcliff Community Enterprises introduced an incentive for schools to assist in purchasing materials to create art work.

Register before April 24th and receive $150 to assist with costs of art supplies. 

Conditions apply: This payment is only for schools, charitable or not for profit organisations, education providers and community groups.  Entry must be a single piece and not individual pieces of work.
All enquiries to  ArtSpace coordinator Tracey on 0417 921 679 or secretary@ncelboard.net. 
Please note that I am not a bank employee and work elsewhere full time.  Text or email is my preferred contact as I may not be able to answer calls.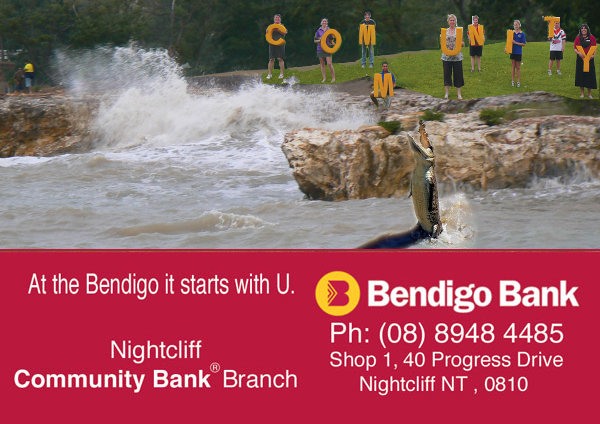 Enjoy the Community Art at the Jetty